Hello Everyone!
I hope you are having a lovely February weekend. It is overcast with occasional sun breaks and drizzle here in the Pacific NW. That is better than what many folks on the East Coast have been getting. My thoughts and prayers are with you all. My Mother-In-Law said they can't even get out the door to shovel the snow is so deep! They live in Maine.
Valentine's Day will be here in a few days and to help inspire you with your Valentine's Day gifts, I found a few videos. The first one is a time lapse painting of a heart. Just when you think the artist can't possibly do anymore to the painting, it changes!
If you want to make your own cards, here is a very cute video with 21 designs that you can draw from the illustrator and author Shoo Raynor. He does make them all look very easy doesn't he?
Next is an abstract Heart Painting of mine that you can see on
several different items
on Zazzle. Feel free to drop by my shop
Itaya's Designs
and see what else I've been creating and sharing lately.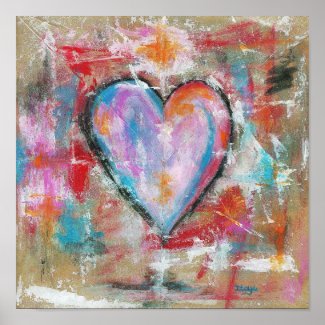 Reckless Heart Original Art Painting Poster
by
Itayasdesigns
Browse
Original Posters
Will you be making any of your Valentine's Day cards or gifts this year? I would love to hear about it or just say 'Hi!'. :)